Man Removes Ugly Popcorn Ceiling In Just Seconds… With Zero Mess
Warning: As the texturing may have been applied before the ban on asbestos in 1978 (Clean Air Act—a United States Federal Law), its removal should only be done by a licensed professional or after testing of a sample by a qualified laboratory has ruled out asbestos content. For more information on asbestos, visit the EPA website.
Oh popcorn ceilings, bless your heart. Your day has come and gone. Yesterday's standard in residential construction is today's eyesore. Such is life in the world of home design.
Are you the owner of a popcorn ceiling? If so, don't fret because the Internet is chock full of DIY popcorn removal tutorials. There's even a nifty alternative to traditional popcorn ceiling removal which is generally less messy (and more attractive) than the old way.
But this video by Chopper's Drywall might be the best solution yet! It's fast, so don't blink…
Are you kidding me!? This is a game changer.
Facebook user Missy Jeffries Bain, a Realtor in Jacksonville, FL was thinking the same thing we all are, which is… what is this and how can I get my hands on one?

Luckily a good samaritan piped up with an answer.

Quick word of caution, though, from "the man" himself…

A quick online search brought up a slew of Porter-Cable 7800 Drywall Sander models.
Below is what it looks like. You can pick it up at Amazon and many other places online.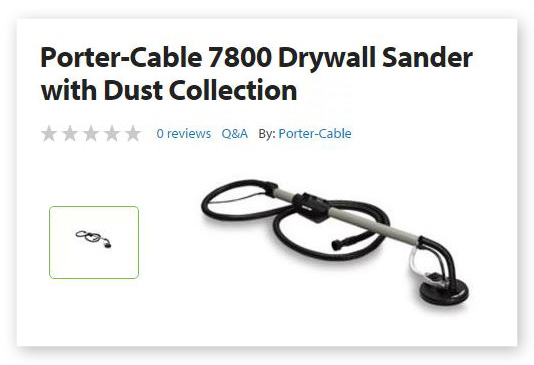 Want to know how to use it? Below is an instructional video. It doesn't specifically show popcorn removal, but it offers a good overview of what you need to know.